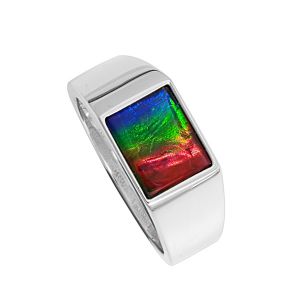 Martin Sterling Silver Ring by Korite Ammolite
Skillfully crafted from sterling silver, this Korite Ammolite Martin Silver Men's Ring is simple and elegant. A genuine Ammolite gem takes center stage with no deterrent from the band's sleek and streamlined band, playing up a minimalist design that is easy and comfortable to wear. A brilliant organic crystal, Ammolite enhanced and focuses the chi's flow of energy of which aids in the detoxification and cleansing of the body. This purifying gem is extremely rare, with n exclusive deposit quickly coming to the end of its lifespan. Rich in colour, it is no wonder why this stone makes such a stunning central focus in this handsome men's ring.
Please note: We have tried to represent the product as close to the original. However, due to the unique nature of Ammolite - The colours portrayed in the pictures may vary slightly from the actual product. All stones used in our handcrafted jewellery are one of a kind!