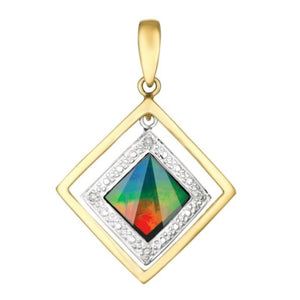 Eva Sterling Silver Sapphire Pendant by Korite Ammolite
Indulge in the energetic therapies of pure Ammolite. This Silver Eva pendant by Korite Ammolite is a wonder, bringing attention to a stunning 8×8 square-cut Ammolite gemstone. The endless attraction of the centre stone is accentuated by sparkling sapphire accents.
Please note: We have tried to represent the product as close to the original. However, due to the unique nature of Ammolite - The colours portrayed in the pictures may vary slightly from the actual product. All stones used in our handcrafted jewellery are one of a kind!